An eSIM is the virtual SIM or digital version of the classic data SIM. It works thanks to a microchip that is installed in your mobile and that allows you to install several "eSIM profiles", the equivalent of physical SIM cards, with their phone numbers and data plans.
Thanks to eSIM technology we can contract a mobile plan and use it immediately, without having to wait for a plastic card or go to a shop.
An eSIM-compatible mobile phone allows you to use several phone numbers at once (in the case of the iPhone, up to 20) and switch from one to another at once. It also allows you to buy a data plan from another country to avoid paying roaming, with which you can call eSIM on the road.
eSIM cards are the future of telephony and will replace the old plastic SIM cards. In this article we tell you how they work.
What is eSIM or Embedded SIM?
Can you imagine switching to another operator without having to go to a shop or wait for your physical SIM card to arrive? And using the same number on your mobile, watch, car and even your home fridge? Well, eSIMs make that possible and easy.
eSIMs are virtual sim cards that are actually placed in the hardware (a specific chip) of your mobile or any other device, so you don't have to place any physical card in any slot. That's why they are called eSims, not by electronic Sim, but by the term "embedded Sim", eSim, which means integrated SIM card.
It is easier to understand if we know that the traditional plastic SIM is a memory chip with capacity for a few data. This data helps the operator to identify the phone line and communicate with the rest of the infrastructure.
Over the years, plastic SIMs have been reduced in size to fit into more compact mobiles, and have also improved in data capacity. Thus the most primitive SIM card was the size of a credit card, while most people in their 30s and above knew their first mobile with a miniSIM card, launched in 1996. More recent handsets use the nanoSIM, which has virtually no plastic surface anymore.
The integrated chip on an eSIM-compatible phone is smaller than a nanoSIM and allows up to 20 "eSIM profiles" to be used, with their 20 different phone numbers and data plans.
The eSims can be found in various devices both wearable and for home appliances, cars or other gadgets that stay connected to the Internet at all times.
How do you set up an eSIM?
The configuration of the eSIM can be done by the user at home following a process that is almost as simple as making a selfie: just direct the phone's camera to a two-dimensional barcode (or BIDI code) provided by the operator for the phone to capture the configuration that will be transferred to the eSIM.
Virtual SIM: Instructions for iOS and Android
Then, depending on the phone and whether you use an Android or iOS phone, the virtual sim cards configuration process is completed by following a series of steps that include choosing whether the eSIM will be used for calls and data or only for data, and also choosing whether the eSIM will work as a single line or together with another line, either in another eSIM profile or a conventional SIM card.
In case there is more than one line in the same phone you have to select which one will be the main one and which one the secondary one.
The same eSIM can be configured as many times as you want, and it can work with both national and foreign operators depending on the configuration provided to the eSIM. A feature that will be especially appreciated by those who like to travel abroad without giving up their mobile number and without risking surprises on their phone bill.
Frequently Asked Questions about eSIM
Which devices are compatible with eSIM?
All Apple devices since 2018 and most of Andrroid's high-end devices, you can check the updated list of eSIM-compatible devices.
Which mobile network companies have eSIM?
Almost all operators in Spain offer eSIM, but not all of them allow you to use any compatible device. For example, Yoigo does not support Apple Watch. You can check the list of operators that support eSIM.
How much does eSIM cost?
The cost to the operator of an eSIM is very low, so it is usually free to apply. Check the details of each operator using the search engine of El Viajero.
How many virtual SIM can I use at a time?
It depends on the device, for example an iPhone allows you to have up to 20 profiles activated at the same time (although you can only use one for calls and another for data). The Samsung S20 and Huawei allow only 1 esim.
Can I buy an eSIM from another country?
Yes, in Holafly you can buy an eSIM from any country you travel to so you have data without paying roaming charges. You can also keep your phone number in case you are called (dual SIM).
How eSIM works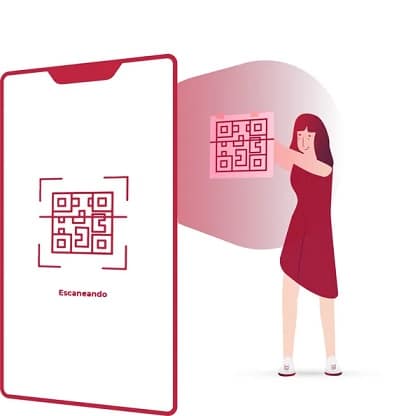 The eSIM has the same function as conventional SIM cards: it contains the personal information (such as the telephone number) and the configuration that connects the mobile phone to the telephone network of a given company, in order to link the user to the operator that provides and manages the contracted mobile services.
However, each physical SIM card is programmed to work only with the operator who supplies it. And although the operator can update and change the information contained in the SIM its base programming, which comes from the factory, can not be modified. For this reason, when you change the operator, it is necessary to remove the SIM card that is inside the phone and replace it with another SIM card that will be delivered by the new operator.
This disadvantage makes difficult to change the operator even if it is temporary; for example, when you travel abroad and you want to contract with a local operator instead of using the mobile in roaming.
Roaming allows you to use your mobile abroad without making any changes to your configuration and without changing your SIM card, connecting directly to the mobile networks of local operators that have agreements with your home operator. However, roaming can be expensive, especially when using mobile data in countries outside the European Union.
To address this, eSIM is also designed to eliminate the complexity and cost of roaming, making it easier for consumers to change operators and sign up for mobile service with local companies when travelling abroad. With virtual sim the whole process of changing operator, domestic or foreign, is completed by software actions (through apps and phone settings) without the user having to physically manipulate either the SIM card or mobile parts of the phone.
Advantages of virtual SIM cards
For the client
There goes the plastic. You no longer have to buy or ask for a physical SIM card when you change operator, lose your phone or buy another one. The eSIMs will be in the device you have and activated.
Changing rates and companies will be easier. As your eSIM will have the information of all the phone operators, it will only be necessary one click to change your data plan, for example, or your company.
You will be able to recover your data in case of loss. As the information you store in your eSIM or virtual sim is also stored in a cloud, in case of loss or theft of your mobile, you only need to move this data to another terminal (mobile with eSIM).
You will be able to travel and stay connected. One quality of eSIM is that you can use it as MultiSim, that is, keep a single plan with the same number and amount of data distributed in different devices (mobiles, tablets). Also, when you travel, you will not have to make physical change of your national SIM for a SIM of the destination country (in case you choose this mode of Internet connection).
eSIM and sustainability
Every year billions of SIM cards are manufactured and disposed of around the world. It is estimated that more than 5.5 billion plastic SIM cards will be distributed by 2020.
Despite their age (the SIM card emerged in the early 1990s), there is still no effective method for recycling SIM cards, which are classified as mixed waste combined with other waste. This is one of the most complicated types of waste to recycle because they mix different materials, each of which has its own optimal recycling process.
In addition, SIM cards not only combine metal and plastic, but also contain rare and valuable mineral elements, such as gold. This makes recycling even more complicated, as it requires complex chemical and mechanical processes that are costly and polluting in themselves.
Every year billions of euros are thrown away in electronic waste that is not recycled, including a large proportion of SIM cards that are no longer useful. In some cases, users choose not to send their SIM cards for recycling, for security reasons: they prefer to keep them, destroy them or burn them to protect the personal information they contain, such as phone numbers, contacts or messages.
An additional benefit of eSIM is that it helps reduce the use of plastics and the CO2 emissions and consumption of raw materials associated with their manufacture. eSIM also reduces the abundance and accumulation of plastics in landfills and in the environment, including rivers and seas. As virtual card is part of the mobile phone it will be recycled during the same process as the rest of its electronic elements and components.
For the manufacturer
Bye bye, slots. Now the artists who make your phone look so stylish will have more freedom as they won't have to make a team with a space to put your SIM card.
For the network operator
Less paperwork. Operators will not have to worry about providing their customers with SIM cards due to mobile losses, renewals, among others, with eSIM the processes and tasks are simplified.
Other benefits of eSIM
Nano Sim, a giant in front of the eSIM
If you thought that Nano size SIMs were small, I'll tell you that an eSIM is 10 times smaller, and it's located in the hardware of the mobile. The first mobiles to use this excellent device were the latest versions of the iPhone (iPhone Xs, iPhone Xs Max and the iPhone Xr) and the Google Pixel 2.
Goodbye MultiSim: eSIMs do the same
Apparently so. As you know, a MultiSim is a service that some mobile operators can offer you to manage a single number in different devices, this because each device, tablet, smart clock or mobile, will work with a Sim card with the same number. This benefit -that they can write, call or make a video call, for example, to the same number but in more than one device- can also be done by an eSIM. All you have to do is buy and activate your new device at the same rate.
Dual SIM, also on the spot
To take into account, a DualSim is a benefit that some mobiles have so that you can have two SIMs, and therefore two numbers, in the same device. Having said that, an eSIM will not only allow you to operate one number in different devices (MultiSim), but you will also be able to store and use more than one number in it (Dual SIM). A disadvantage that could be corrected is that you cannot use more than one number at a time.
Bye bye, international roaming: The main alternative has gone out of fashion
This service offered by your operator when travelling outside Spain or the European Union to keep you connected to the Internet will go down in history because with eSIM (virtual sim) you will be able to contract a prepaid rate with an operator at your destination without so much paperwork. However, when contracting a rate or plan outside Spain and the EU you will not be exempt from using a local SIM, and therefore, using another number.
The eSIMs with the main mobile network carriers in the country
After the turmoil caused by the eSIM, as well as the presentation of this technology in the latest versions of the iPhone, the main mobile operators in the country have chosen to include this technology in their services, with their rates and some promotions.
After the turmoil caused by eSIM, as well as the presentation of virtual sim technology in the latest versions of the iPhone, the main mobile carriers in the country have chosen to include this technology in their services, with their tariffs and some promotions.
eSIM with Vodafone
This operator does have devices with eSIM, and even just launched a rate called Vodafone OneNumber, which allows you to hire other devices with your same number thanks to the support and technology of virtual sim cards . Like Movistar it is only available for Apple devices.
If you are a customer of the following tariffs, One L and XL and Red L and XL tariffs, this benefit will be free for a second device. For the other rates, you will have to pay 5 euros per month per device but the first three months you will not be charged for the launch campaign. In the style of a MultiSim, you will be able to contract up to 4 additional cards with the same number, which will share number, mobile data, minutes in calls and SMS.
Its activation is free.
eSIM with Orange
Similarly, Orange, the first operator to join the eSIM, will offer the new versions of the iPhone and iWatch with eSIM. The difference with Vodafone is that Orange expands its offer of devices with eSIM to other brands such as Huawei (specifically, smart clock of the Huawei Watch 2 4G eSim) and Samsung (the smart clock of this operator, the Samsung Galaxy Watch).
Initial activation cost of £5, then payment of the contracted monthly fee, which is free for Love No Limits, Love Business No Limits, Love Family Essential 2017, Love Family No Limits, Love Family Total, Go Up and Go Top. For the rest of the tariffs you will pay 2.95 euros per month.
eSIM with Yoigo
This operator also has devices with eSim, which are: the iPhone XS and the iPhone XS Max. Note that these devices actually have the regular Sim – of the classic physical format – and the eSim. So they are devices with DualSim (2 Sims), one integrated (eSim or virtual) and another physical one (the classic Sim).
eSIM with Movistar
Since last November, Movistar has been offering its eSIM services, although for the time being only for the latest generation of iPhone models and with the iPad Pro. Apple Watch 3 and 4 are not included.
Activation cost of the MultiSim service of 11 euros with up to 3 additional eSIMs to the main one. After activation, you will pay a monthly fee of £6.
eSIM with Pepephone
In Pepephone it is not necessary to activate the multiSIM service in order to have our virtual card, you just have to request it and activate it in the device where you are going to use it: "From now on, all customers can choose if they prefer to have a traditional physical SIM card or an eSIM. If you are already a customer of ours, you will be able to request a duplicate eSIM and if you are a new customer you will be able to select this alternative when contracting a mobile tariff, both without any additional cost". (Pepephone's blog)
Compatible with all smartphones that support this technology, but not for smartwatches).
O2 eSIM
Movistar's virtual operator, O2, announced this February that it will also market these virtual cards and will be compatible with the iPhone XR and XS, and the new iPad Pro.
They will ask you to send them your details (ID/NIE/Passport) beforehand. Later you will receive an "activation pdf" with the necessary data (PIN, PUK, ICC and QR code) for the operation of your eSIM.