The country has developed over the years and today is one of the tourist destinations to consider. Its gastronomy, multicultural population, and metropolis cities that never stop innovating are the main reasons to visit Singapore. Like other destinations, one of the tasks that every tourist has is how to stay connected while abroad. The best way is through a SIM card for Singapore, and in this article, you will find all the information about how to buy them.
For a long time, there have been options such as international roaming, characterized by its high cost, or pocket wifi, which are not very practical because you have to carry them with you all the time. An additional alternative that has been a remedy for these two situations is the embedded SIM card or just eSIM, which you will also learn about here.
Virtual SIM card for Singapore
Where to buy a SIM card for Singapore?
As mentioned before, having your own mobile internet in Singapore can make it easier for you to explore this country full of possibilities. By having a SIM card for tourists, you will no longer worry about searching for public wifi connections, and you will save on the high cost of roaming with your local operator. At this time, visitors have several ways to buy a SIM card and several providers to compare offers. There is a solution for any kind of need, so there is no reason not to opt for a SIM card for your trip.
As a tourist, there are mainly two ways to buy a SIM card for Singapore. If you have a phone compatible with the virtual SIM card, you will also have a third option with many more benefits and opportunities. The ways you can take to buy a prepaid SIM card for any destination are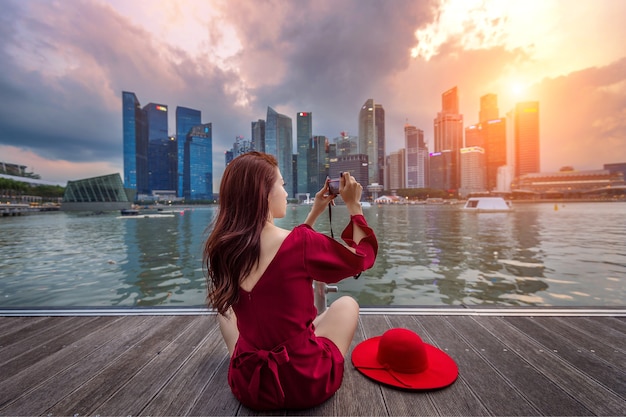 The first option and solution for many visitors are before arriving in Singapore to buy a prepaid SIM card. Online stores offer SIM for tourists to multiple destinations.
Another route that can be time-consuming is to purchase a local SIM card for Singapore once you are in the country. Local operators also offer packages for tourists.
The new technology known as eSIM is the best alternative for travelers from all over the world. Online stores like Holafly sell digital SIM cards for Singapore with easy access.
(You may also be interested in the best SIM card for New Zealand)
Buy before you travel.
This is definitely the way that will make it much easier for you to maintain your own internet connection in Singapore. Thanks to the facilities presented by the online stores, it has been the choice of most travelers around the world. These stores, in addition to offering prepaid SIM cards for Singapore and other destinations, have delivery to various countries through international shipping. You have to keep in mind that this shipping can take time and add cost to your service. Despite this, there are many options, but you should always choose well which store to use.
Regarding this, it is important to know that the international SIM card for Singapore will always work under the service of a local operator in the country. For this reason, you must hire one that guarantees good coverage and connection speed within Singapore. In addition to the physical SIM cards, you can also buy digital SIM cards in stores like Holafly. We anticipate that if you have a compatible phone, this will be the option to choose from.
Pros of buying a data plan for abroad before traveling
If you decide to purchase a physical SIM card or a virtual SIM card for Singapore before your trip, you will enjoy some benefits::
As you are buying your SIM card for tourists before arriving in Singapore, you will have the possibility to activate it as soon as you arrive. This will allow you to have internet all time of your trip to communicate or whatever you need.
Be ready before you are in the country.
By making the purchase before you are in the country, you will be able to anticipate any situation with your phone or the prepaid SIM card. It is better to solve this situation from home than to do it in a country you do not know.
Having mobile internet through a prepaid SIM card for Singapore is much cheaper than other options such as international roaming or pocket wifi.
Buy your tourist SIM card in Singapore.
If you are not yet decided to buy a SIM card for Singapore through an online store, you have another option. This is to buy it through a physical store of a mobile operator in the country. One thing you cannot forget is that, in this case, you must have an identification document as well as go through a SIM registration process. In the country, you can only have three SIM cards associated with your name. The stores can be located all over the country and in the most important airports. Below you will find information about the local operators that offer solutions for tourists.
Singtel
This company is one of the largest phone companies in Singapore, offering a whole range of SIM cards for tourist to choose from. Among its options are packages of 100GB and 14 days of use or 100GB and 28 days of use. These basic options will allow you to access 4G networks. In the case of opting for a 5G network the cost would be higher for the same packages. All options include messages and calls to local numbers as well as the possibility of roaming at no additional cost to countries such as Australia, Indonesia, Malaysia, and Thailand. It is possible to top up in the 5G versions but not in the 4G versions.
StarHub
Connect and surf in Singapore is StarHub's promotion for its Tourist SIM card in the country. This phone company has three packages to choose from, the first one with 10 days of use and 100GB for surfing. The other two options of 30 days of usage and 100GB or 120GB of browsing. Regardless of your choice, you will also have messaging and calls to local numbers available. A limited amount of the browsing data can be used for roaming to 17 other destinations. StarHub recommends its users install its mobile App not only for SIM card management but also for plan renewal.
M1 Singapore
One last operator with which you can have internet in Singapore is M1, and their all in one prepaid SIM card for tourist. Within these SIM cards, there are several options to choose from. All plans have a duration of 30 days. The data packages range from 56GB to 150GB of browsing plus unlimited local messages and unlimited calls to Singapore numbers. These SIM cards for Singapore can be purchased at retailers such as 7-eleven and cheers, as well as at Changi Airports. M1, on their website, offers a map with the location of available stores. With this, you can go to the nearest location.
How much does a prepaid SIM card for internet in Singapore cost?
The most important operators in the country have SIM card offers for tourists at affordable rates. We would like to remind you that this way has its limitations as you can only buy three SIM cards in your name, and you will always need to go through a registration process. With this in mind buying your prepaid SIM card can cost you between $10 and $50 depending on the provider you use, the plan you choose, and the duration of the package. The alternative to skip the cumbersome process of buying your SIM card in Singapore is to use the embedded SIM card or eSIM card that online stores like Holafly offer.
Holafly eSIM for Singapore: a great alternative.
The time has come for new technology, and now SIM cards are on the digital plane. The embedded SIM card is the virtual change to the usual physical SIM card. This brings with it not only the ease of installation but also the ability to receive them in minutes, no matter where you are. It is only necessary to have an internet connection, visit the Holafly online store, and select the country of destination along with the data package you want. After proceeding with your payment, you will receive a QR code to your email, which you will scan, and with this, you will be able to activate your virtual SIM card for Singapore.
Undoubtedly, if you have access to virtual SIM cards, you should choose them as your way to having internet in Singapore. In addition to what we have already mentioned, we will let you know some of their advantages and disadvantages to help you choose them for your next trip.
Advantages and disadvantages of Virtual SIM cards
Advantages:
With just an internet connection, you can purchase and activate your Holafly eSIM card for Singapore or any other destination. This process takes only a few minutes, and the store facilitates payment methods such as Apple Pay, Google pay, Paypal, and credit or debit cards.
You will always have data.
All eSIM for Singapore plans offered by Holalfy include unlimited data, so you will never be without communication. Ideal for destinations like this where between all the things you can do, it is easy to forget how much data you consume.
If it runs out, you can renew it.
In case your stay is longer than planned, Holafly's virtual SIM card has a Top up option. With this, you can add more days to your data plan without having to activate a new eSIM on your phone.
Excellent customer service.
The online store's customer service is available 24/7, with support in more than five languages and many channels of communication. Additionally, Holafly offers information about all destinations and their services.
Disadvantages:
Compatibility with the latest generation of phones.
Being a new technology, it has been slowly being incorporated into the industry, so not all phones are compatible with eSIM. To help you check if you can use the service, Holafly has an updated list of available phones that supports eSIMs.
How much does an eSIM for Singapore cost?
One of the great advantages of virtual SIM cards is their prices. Since they are completely digital, they don't need a great cost nor extra cost for delivery. If you want to know more about it, here are the prices of Holafly's virtual SIM card for Singapore.
| | | |
| --- | --- | --- |
| Days of use | Data Plans | Price (USD) |
| 5 days | Unlimited data | $19 |
| 10 days | Unlimited data | $34 |
| 15 days | Unlimited data | $47 |
| 20 days | Unlimited data | $54 |
| 30 days | Unlimited data | $64 |
| 60 days | Unlimited data | $84 |
| 90 days | Unlimited data | $99 |
Table 1. eSIM Card rates with data for Singapore from Holafly.
Buy your eSIM for Singapore now
Frequently asked questions
How else can I connect to the internet in Singapore?
You can activate data roaming and use data provided by your current provider. But be aware that this will be very expensive. If you plan on using this option, you can expect a hefty phone bill when you get back home. Alternatively, you could buy Pocket Wi-Fi (a portable device that generates a WiFi connection for your phone). This option is also expensive, and you'll have to carry the device everywhere. A SIM card for Singapore is the cheapest and most convenient way of connecting to the internet.
How much does roaming cost in Singapore?
You could expect to be charged $7-$15 per MB. So if you watched a movie on Netflix, that could mean paying hundreds. That's why we recommend buying a SIM card instead.
What do I do if my SIM card doesn't work in Singapore?
If you buy your virtual SIM card from Holafly, you can contact their customer support team 24/7. All SIM cards come with clear and comprehensive set-up instructions.
Are international SIM cards worth it?
Yes, they are an excellent choice as you can save the high cost of international roaming, as well as purchase one of these SIM cards from the comfort of your home. For this reason, we recommend Holafly's eSIM for Singapore to take advantage of the international options.
(Visited 321 times, 4 visits today)